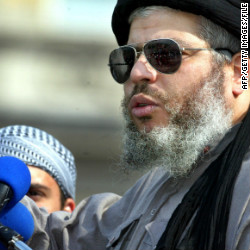 Islamist Abu Hamza al-Masri and four other terror suspects have flown out of Britain on board a plane bound for the US, the BBC reported Saturday.

The high court earlier dismissed the five men's final appeal against extradition to the US where they will face terror charges.

The Scotland Yard extradition unit officers handed the suspects to US marshals at the British Air Force base Mildenhall.

British Home Secretary Theresa May said she was pleased the suspects will no longer stay in her country.

"It is right that these men, who are all accused of very serious offenses, will finally face justice," she said.

Abu Hamza faces 11 charges in the US, including hostage taking and a conspiracy to establish a militant training camp. He is set to appear in front of a judge within 24 hours in an open hearing once the jet lands.